By Bill Hurley @BillHurleyMedia
As a former newspaper reporter, I am a lifelong news junkie. Although my passion has evolved from newspapers to social media, I haven't lost my hunger for news and information. Once I discovered Scoop.It!, it pretty much completed my transformation to social media and turned me into an evangelist for aggregating, learning, curating, sharing and connecting with others. I also love
Flipboard
and its magazine-like look, and I know there are other top-notch aggregators and curators out there, such as
Feedly
and
Storify
. But
Scoop.It!
is the girl who caught my eye, so to speak, and I am falling fast. Here are five reasons I love Scoop.It:
1. I aggregate
In this new age of social journalism, content is everywhere. Scoop.It! is a great way to pull together quality content from across the Internet, organized by topic. How else would I ever have
found this article from socialtimes.com
comparing the social media successes and shortcomings of outgoing Tonight Show host Jay Leno versus new host Jimmy Fallon?
2. I learn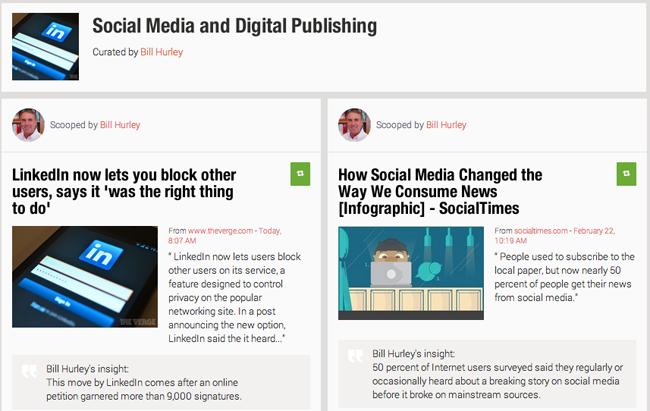 3. I curate.
Now that I have all that information organized in front me and I have read it, I pick the best of the best to put on my Scoop.It! boards, such as this one on my
Education
topic:
4. I share
Yes, my boards are great resources for myself, but more importantly, they are valuable commodities for people who have similar interests. Through my social media platforms, I share with others the articles I have discovered and the availability of my topics, and they benefit as well. The free version of Scoop.It! allows you to share simultaneously on two networks as you Scoop an article or blog post. With Scoop.It! Pro, there is no limit on the number of social accounts that you use to spread the news.
5. I connect with others